MOVIES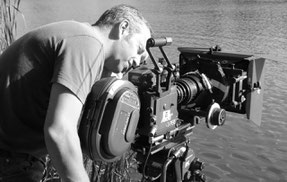 Making movies is our true love and over the years we have produced feature films and short films of all shapes and sizes. Here are just a few of our very favourites.
---
OUR LATEST WORK
Kaleidoscope Man - This is our biggest and most ambitious feature film to date. The demo opening sequence was made to attract production finance. We are currently in production. Check out: www.kaleidoscopeman.com for more information
---
Written in Blood - Our first feature film, starring Grant Masters, Sharon Small, Francis Magee and Doug Bradley. It is a scarey tale about a famous horror author who conjours up the spirit of a Victorian serial killer. You can watch the trailer here, rent the film and buy a copy of the DVD.
WATCH WRITTEN IN BLOOD BELOW:

---
A Swift Change - This short film was our entry into the Sci-Fi London 48 Hour Film Challenge. As the title suggests, it was conceived shot and edited in just 48 hours once Sci-Fi London provided us with the film's title, a line of dialouge and a prop to use.
---
Overload - This spooky short film was first shown on Channel 4's, The Shooting Gallery in 1994. It was shot on grainey super 8mm black & white film stock and the sound was completely post sync.  
---