DOCUMENTARIES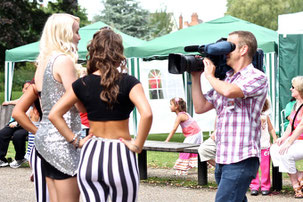 We have produced many documentaries over the years for companies, charities and have worked with the BBC, Channel 4 & 5 and SKY.
If you are looking to have a documentary produced, please do give us a call.
Below is a some of our recent work:
---
Cherry Tree Nursery - Back in 2000, we made a film about a new charity called, The Shelterered Work Opportunity (SWOP), who set up Cherry Tree Nursery to support people with mental health issues. This year we went back to make a new film about the very successful work they have achieved. However, we were shocked at how demand for this kind of support has recently shot through the roof and how having a mental illness can effect all of us. Please do support them if you can: www.cherrytreenursery.org.uk
---
Discover Shakespeare's Stratford Upon Avon - This 92 minute documantary was produced in house and is regarded as the official Stratford upon Avon video. It is sold in the Shakespeare houses and sells all over the world including the USA, Japan and China.
WATCH THE WHOLE DOCUMENTARY HERE:

---
---
The Restoration of the Stoneleigh Abbey Lake - This is the first part of a series of films following the 3 year journey to bring the grounds of this spectacular British building back to its former glory.
---
Discover Warwickshire - This 98 minute documentary details each of the towns in Warwickshire and is sold in tourist venues around the county. In 2010 it won AlphaStar Productions a Godiva Award for business innovation.
---