SERVICES & PRICES
---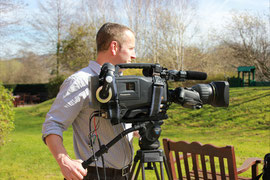 FILMING
We provide an experienced broadcast cameraman with a full HD Panasonic Varicam Camera. This is a very high spec camera (DVCPro HD) which comes with a Fujinon HA22 X7.3 Berm-48 HD lens. Comes with a tripod, batteries, set of radio mics, sound boom and dedo lighting kit. 
                                                       Rate £550.00 - per day/session
---
EDITING
We have a full high end HD broadcast Avid edit suite. The system is hired out with a very experienced editor and can be used to edit, grade, create graphics, mix sound and export to HD tape or a variety of HD formats for the internet.
Rate £50 per hour or £450.00 per day. 
---
VIDEO PRODUCTION - TERMS & CONDITIONS
OUR COMMITTMENT TO YOU:
We will provide an exceptionally high quality filming and editing service that delivers creative videos for you to use to enhance your business and spread the message of what you aim to achieve.
We will guide you through the entire film making process, from initial scripting, through production and then through post production, keeping you informed with our progress. When we have an edit for you to see, we can either put this online (securely) so that you can advise us on any changes required, or you can sit with us at the edit suite during the fine cut stage.
Every effort will be made on our part to ensure we deliver to your deadlines.
Once the editing is complete, we can provide a variety of delivery formats, from HD web files to DVDs. We can also help you with putting your video on You Tube and Vimeo and linking this to your website.  
We will always be friendly, polite, professional, and strive for perfection in the films that we produce for you. We will provide guidance when you need it and are usually at the end of the phone or contactable via email.
Ultimately, our goal is for you to be very happy with the videos we make for you, so much so that you share our work with your contacts. The majority of the videos we produce for companies nowadays come from word of mouth, so delivering quality and customer service is very important to us.
WHAT WE ASK IN RETURN:
When you initially contact us to discuss a video proposal, we will prepare a full quote which we will send to you.
Once we have reached an agreement on price, we will provide you with an invoice for the full amount and require you to pay 50% up front before we do any work.
When the video is complete and you have approved the final version, we will require the last 50% before we send you the final deliverables.
If a job looks like it is going to overrun or expand, we will discuss this with you well beforehand and agree a new price that we are both happy with. We will then administer a new invoice which will include the overage. This will then need to be paid on approval of the final edit. 
---