ABOUT US
Alpha Star Productions is run by Simon Cox, a film-maker who has worked in the UK TV and film industry for over 25 years and has directed and edited numerous programmes for the BBC, ITV, Channel 4 and Channel 5. 
He is passionate about films and film making and is currently working on his second feature film, Kaleidoscope Man, an exciting and ambitious sci-fi thriller.

Simon's passion for making films all started a long time ago in a galaxy far far away when he first saw Star Wars. He made his first films on Super 8mm and was obsessed with science fiction. One of his films, Battle in Outer Space, was shown on the BBC children's film quiz show, Screen Test. Another film he made called Circles of a World, won an award at the 9th Tokyo film festival in 1984.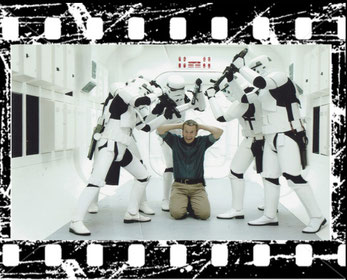 In 1989, Simon set off for London where he became a runner for the children's animation company, FilmFair.
Before long, Simon became an in-house editor, where he learnt his craft, cutting over 300 children's programmes including; Astro Farm, The Gingerbread Man, Huxley Pig, The Wombles, Treasure Island, Molly's Gang, and The Koala Brothers.
He wrote and directed, Overload, a short film which was screened by Channel 4, and directed 8 episodes of Sky's sci-fi documentary series, Stranger Than Fiction. In 2002 Simon edited the BAFTA nominated Cool Keys featuring Jools Holland for the BBC.
In 1999, Simon wrote and directed the feature film, Written in Blood, which was commissioned by Dandelion Distribution. This was shot at Pinewood Studios and has sold all around the world, currently it is showing on Sky. The Horror Channel commissioned a 30 minute 'Making of Written in Blood' documentary and described Simon as one of the UK's hottest up and coming film directors. A chapter in the 100,000 selling Guerrilla Film Makers Handbook was also dedicated to Simon's film.
Ten years ago Simon left London and relocated to Warwickshire where he set up Alpha Star Productions, providing a local production service to complement the work retained from existing clients in London. Over the years he has invested heavily in high end HD camera and editing equipment, the first company in the region to do so. He has produced many corporate videos, pop promos, commercials, training and conference videos. In addition, he has edited two Screen WM award winning shorts, co-produced three independent feature films, was 2nd unit director on "Gone Fishing", an OSCAR short listed short film and was editor and 2nd unit cameraman on the feature documentary, "Charles Dickens's England"starring Sir Derek Jacobi.
Recently, Simon was awarded a Godiva Award for "Best Business Innovation", for his documentary, Discover Warwickshire. This was followed up by Discover Shakespeare's Stratford Upon Avon which is currently selling in Shakespeare's Birthplace shop in Stratford upon Avon. 
Simon is married to Angela and has two little girls.